Account to Account (A2A) is a service CCU offers for qualifying Members to transfer funds to and from an account they are an owner of at an external financial institution.
To qualify for A2A, your Membership must be active, with no restrictions.
To utilize the A2A system, login to your Online Banking and follow these steps:
Transfer Funds -> Manage External Account.
You will then be presented with the A2A disclosure. Please read the disclosure, checkmark the box and select "I accept the terms of this agreement".
Once the agreement is accepted, the next screen will allow you to add an account you wish to use for A2A purposes. The account being added must be an account that you are an owner of.
To add an account, select "Add an account at another financial institution that is not listed above".
You are now ready to add your external account.
The information required to add an account will be your external institution's Routing Number, Account Number (checking or savings) and an Account Nickname. Once you enter your Routing Number, select Verify and the name of your external financial institution will appear above the Routing Number. Enter your Account Number and your chosen Account Nickname. Select if the account entered is a checking or savings account. Submit.
Enter the 2 trial deposit amounts into the fields shown and select Next.
If the amounts are entered incorrectly, you will receive this error message.
If you are unsure of the trial deposit amounts, contact your external financial institution for clarification. If the incorrect trial deposit amounts are entered three times, the verification feature will be disabled. Please contact CCU if this occurs.
If your amounts are entered correctly, Verify will change to Active and your external account is now ready to be used for the A2A service.
To schedule an A2A transfer
Login to your CCU Online Banking -> Transfer Funds -> Manage Transfers.
Your External Account will show as an account to transfer To or From in the dropdowns. It will indicate (External Account) next to the account number and also show the nickname chosen.
Select your From Account and To Account, enter the amount requested, choose a scheduling option (immediate, future dated, or recurring), and enter a description if desired. If you are scheduling a future dated transfer, select the date you would like the transfer to be sent.
If you are scheduling a recurring transfer, select the first transfer date and the frequency. When scheduling an A2A transfer, please keep in mind that the transaction may take up to 4 business days to be completed. Submit.
Your Scheduled Transfer be can viewed within your online banking. Scheduled Transfers can be located by going to Transfer Funds -> Manage Transfers -> Scheduled Transfers.
If not scheduled for immediate transfer, this transaction can be edited or deleted, if necessary. To do so, select the green edit icon to edit or the red X to delete.
When your A2A transfer request is in processing, the status of the transfer can be found by going to Transfer Funds -> Transfer Activity -> Transfer History.
The status will read Sent, Delivered or Received.
Sent indicates that the transfer is in processing.
Delivered indicates that the transfer was credited at the external financial institution.
Received indicates that the transfer has been credited into the CCU account.
Until the transfer is credited, no Completion Date will be shown.
Once the external account has been verified, A2A transfers can also be initiated within your CCU Mobile App.
When logged into the CCU mobile app, select Transfers from the Main Menu.
Schedule a transfer to and/or from your verified external account. Enter the amount, your scheduling option and a description, if desired. Submit
Once submitted, you will be prompted to review your transfer. Review your From and To Accounts, the Amount, the Scheduling Option and the transfer date chosen. If you would like to edit any of the information, select Edit and you will re-directed to the previous page to make your changes. If you would like to cancel the transfer, select Cancel. If you would like to proceed with this A2A Transfer, select Confirm.
If you select Confirm, you will receive a message stating "Your transfer has been successfully scheduled" and a confirmation number will be given.

To view, edit or cancel your Scheduled Transfers, go to the Main Menu -> Scheduled Transfers.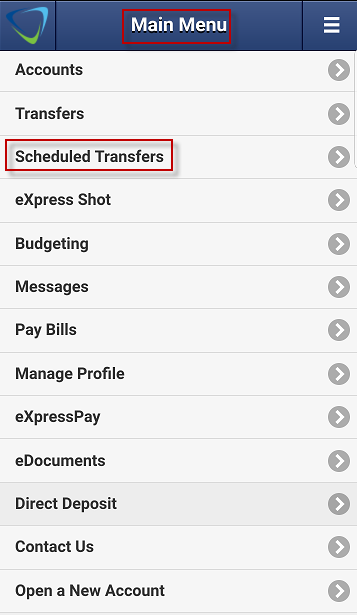 To view or edit the scheduled transfer, click on the transfer details.
Update the information you wish to change for this transfer. Submit.
Confirm your changes.
Once confirmed, you will receive a notice stating the transfer has been successfully changed and the changes shown under Scheduled Transfers.
To change the From or To Accounts, please delete the scheduled transfer and submit a new request. To delete a Scheduled Transfer, select the red X to the right of the transaction.
An alert will be prompted asking if you are sure you want to delete the transfer. Select OK to delete.
Once confirmed, you will receive an alert stating your transfer was successfully deleted.